It is amazing what you can get to do, see and experience in just 8 days of safari in Uganda. From gorillas to savannah wildlife, its game on. And best of all, you get to choose what you will want to do. What we share here is to inspire you to dream and craft a personal safari like no other.
Day 1: Karibu Uganda
Welcome to Uganda! Your guide will meet you at Entebbe International Airport and transfer to your accommodation. Entebbe is a cool and green garden on the shores of Lake Victoria, the second biggest freshwater body in the world. Take some time to rest from the flight, or take a game of golf as you prepare for the adventure ahead.
Day 2: Off to Kibale the Primates Capital
Today transfer to Kibale National Park in western Uganda. The park is known for its diversity and abundance of primate species. Some call it the primate capital of Africa, the richest eco system in Africa or the primatologist's dream. After checking in, explore the Bigodi Wetland Sanctuary for a closer-to-nature encounter before retiring for the night.
Day 3: Track the Chimpanzees of Kibale
Enjoy breakfast before you before going out to track chimpanzees in this tropical forest. Kibale has a large concentration of primates so look out for L'Hoest monkeys, blue monkeys, red colobus monkeys and others. After lunch transfer to Queen Elizabeth National Park. Check into your accommodation. If time allows you can go out to explore the crater and salt lakes of the park.
Day 4: Seek out four of the Big Five
Morning game drive seeking out Africa's big 5 – lions, elephants, buffalo, and leopards. Queen Elizabeth National Park is one of the most visited parks in Uganda. In the afternoon go for a water safari on the Kazinga channel. There are over 600 bird species in this park and you would need days just to go out birding. You will see some as you cruise along. This safari brings you close to wildlife from the safety of your tour boat.
Day 5: Off to the land of the gentle giants of Bwindi
After breakfast, transfer to Bwindi through the southern sector of Queen Elizabeth National Park. This section is home to the tree climbing lions. While lions do often climb trees around Africa, the lions of Ishasha prefer to spend most of their day in the trees. Once at your accommodation, settle in and prepare for the next day's great trek.
Day 6: A Trek like no other with the gorillas of Bwindi
Track mountain gorillas in Bwindi. There are only about 1,000 mountain gorillas left in the world. This is a once in a lifetime opportunity to spend time with a gorilla family. In the afternoon, you can rest to recover from the morning hike or take a village walk and engage with community.
Day 7: To the Land of Zebras, and Long Horns
Transfer to Lake Mburo National Park. Enjoy a relaxing moment is this quiet wildness. Or as an option you may choose to enjoy a cultural evening with the cattle keeping community in the area. Get to know their ways of life and culture.
Day 8: A Walking Safari and on homeward
It is so pleasurable taking a walking safari in Lake Mburo National Park. Set out with your guide and ranger walking up close to the zebras and the giraffes. After your walk, transfer to Entebbe for your journey back home. You will make a stopover at the Equator as you cross back into the northern hemisphere.
Thank you for choosing Kwezi Outdoors for your safari to Uganda.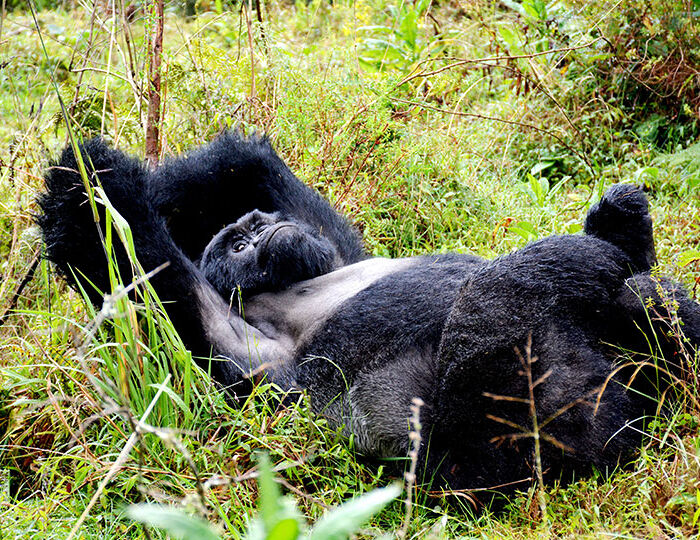 Ask for your Free and No-Obligations quote. Then work with our experts to personalize your itinerary.